Dry Eyes
---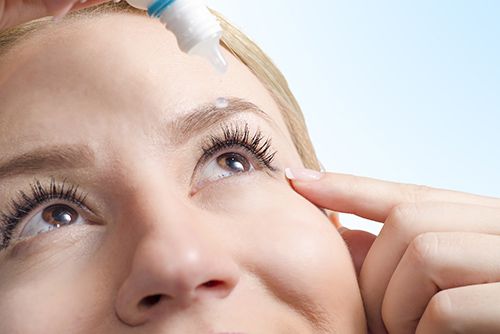 Welcome to EyeMax – Your Dedicated Optometrists Serving Lexington and Nicholasville, Kentucky Since 2000.
Dry eye is an uncomfortable condition that occurs when your tear ducts are unable to produce enough lubrication to keep your eyes adequately moist. It's a common occurrence that may be caused by different factors. For instance, sitting too long at your computer screen can contribute to dry eyes, so can riding a bike or sitting in front of an air conditioner. For many people, dry eye occurs only in situations such as these. But for others, the condition may be chronic. If you suffer with frequent dry eyes, your family eye doctor in Lexington and Nicholasville, Kentucky can help.
Common Signs and Symptoms of Dry Eye
When your eyes become overly dry, even blinking becomes a chore. Because there's not enough lubrication to keep the delicate tissues moist, you may experience symptoms that range from uncomfortable to painful, including:
Itching, burning sensation in the eyes

Stringy strands of mucus in the eyes

Sensitivity to light

Redness

Blurry vision

Feelings of grit or debris in the eyes
Dry eyes can become quite irritating if you don't seek treatment. It may go away on its own, but making an appointment with your eye professional can help you find faster relief. It can also prevent future instances of dry eye.
Treatment for Dry Eye
Your eye doctor has different options for treating dry eye, but they all begin with a comprehensive eye exam. Once they know what's causing your situation, they can devise a treatment plan to bring relief. This may entail using lubricating eye drops combined with simple lifestyle changes, such as drinking more water or limiting the amount of time you spend on the computer. If there's an underlying cause why you're experiencing dry eye, your eye professional will treat that first. This may involve changing some of your medications or prescribing new medications that help you produce more natural tears.
Other treatment options for chronic dry eye include wearing special contact lenses, called scleral lenses, that help trap moisture on the surface of the eye. Your eye doctor may also recommend a procedure to unblock your oil glands or treatments that involve light therapy and eyelid massage.
Finding Help for Dry Eye in Lexington and Nicholasville, Kentucky
If you struggle with chronic dry eyes we are just a phone call away. The friendly and our professional optometrists are happy to answer all your vision-related questions. We'll schedule an appointment that's convenient for you at one of our locations in Lexington or Nicholasville, Kentucky, and we'll find workable solutions for your dry eyes that bring quick relief. Call today to schedule an appointment for any member of the family.